Kellogg Environmental Ambassadors
There are many opportunities for students to get involved with sustainability at Kellogg, one way is to become an Environmental Ambassador.
Our Environmental Ambassadors support the College in its efforts against global warming and climate change, as well as helping to facilitate behavioural change among staff, students, fellows and other members of the College.
Meet our current Environmental Ambassadors:
Abdul Alkahala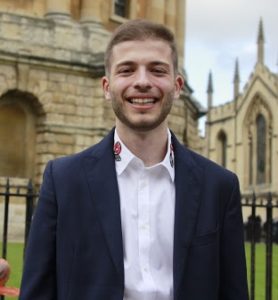 I decided to apply to become an environmental ambassador because it is a role that represents my passion for sustainability and attempting ways to reduce our impact on the world's climate change catastrophe. This role also allows me to apply the technical skills I am learning in my MSc Energy Systems program to real life applications. In this role, I look forward to quantifying Kellogg's Carbon footprint within a regulated framework. Further, using these results to investigate how we can reduce our carbon impact.
Manannan Donoghoe
I became an environmental ambassador to help our college become a leading example in Oxford's approach to sustainability. Oxford's colleges, encompassing much of student's daily experiences, represent an ideal space to trial, advocate, and grow new environmental and sustainability agendas. By working with the College to draft our first sustainability policy, I hope to situate sustainability at the forefront of College decision making and in so doing, influence other colleges and the University as a whole, to take a more progressive stance towards our environmental and social impacts. These are small but integral first steps if we are to foster a new culture, one more aware of climate change, that takes our own and organisational responsibilities for environmental impacts seriously.