Kellogg alumnus receives 2022 Gwobr Archaeoleg Cambrian Archaeological Award
Congratulations to Kellogg alumnus Dan Hunt, on being awarded the Cambrian Archaeological Association's 2022 Gwobr Archaeoleg Cambrian Archaeological Award.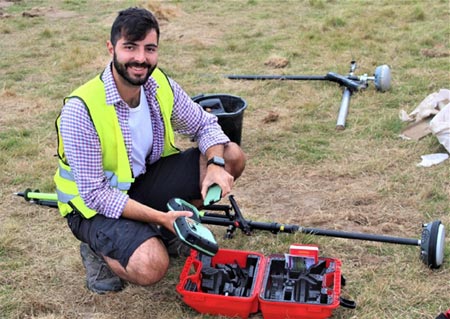 The Gwobr Archaeoleg Cambrian Archaeological Award (formerly the Blodwen Jerman Prize) is awarded annually to an undergraduate or Master's dissertation which makes the most original contribution to the archaeology and/or history of Wales and the Marches.
Dan received it for his MSc in Applied Landscape Archaeology dissertation entitled Understanding Promontory Forts: Evaluating the use of combined archaeological survey approaches in researching the coastal promontory forts of Pembrokeshire, which evaluates the existing knowledge concerning these diverse and abundant prehistoric forts, and assesses how our understanding has been shaped by methodologies and surveys of years past. The Cambrian Archaeological Association writes 'Dan advances our understanding of these sites by shining the light on new non-invasive archaeological techniques through showcasing two new surveys of Caerfai Camp and Porth y Rhaw with commendable innovation and academic rigour.'
On receiving the award Dan told the Association: 'Winning this award means the absolute world to me. I am shocked that my work has been recognised by such an esteemed Welsh institution. It is made even more special by the fact that the dissertation was completed at the height of the lockdown where libraries were closed and movement heavily limited…'
When asked about his time at Oxford and completing his dissertation, Dan told us: 'Studying for an MSc in Applied Landscape Archaeology at Oxford was a truly enjoyable and fulfilling experience. The course reignited my passion for the subject and has made me feel like a more rounded and informed professional archaeologist. Whilst challenging, writing the dissertation was an enriching experience and one that has given me a huge boost in confidence in my own academic abilities."
This is the second time a Kellogg alumni has received the award; Genevieve Cain received the award in 2020 for her dissertation Exploring the Kingdom of Brycheiniog: An integrated archaeological approach in an early medieval landscape.