Junior Deans are resident students and a useful first point of contact for students with concerns. New Junior Dean Bessie O'Dell tells us a bit about herself and why she applied for the role.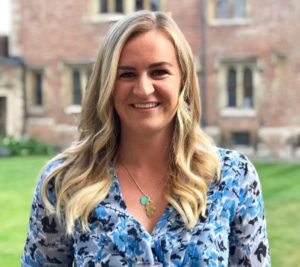 Hi, I'm Bessie!
I'm originally from Conwy in Wales, but have lived and worked in the UK, USA, India and Central America. I love (many) sports and can often be found either on the river or in the mountains. For the past 2 years I've been trialling with OUWLRC. So if you ever want someone to talk to about rowing, come and find me – I can often be found in Kellogg's Hub Café!
I'm currently studying towards a DPhil in Psychiatry, and I'm based between two main groups: the Oxford Precision Psychiatry Lab (OxPPL) and Neuroscience, Ethics and Society (NEUROSEC). My current research focuses on the use of Artificial Intelligence to help treat major depressive disorder, and I am assisting with the development of a clinical decision support system that tailors pharmacological treatment (antidepressants) to individual patients. I have quite a varied background though because I also studied degrees in history, law and criminology before this, as well as working in financial law.
My favourite thing about Kellogg is how diverse and interesting all the students here are, so it feels very much like home.
I decided to become a Junior Dean because I care deeply about supporting other people. I like to think that I am approachable, empathetic, and supportive (but also a stickler for the rules, which is probably the lawyer in me!) So, please do reach out to me and the decanal team if you are ever in need, or even if you simply fancy a chat.
Bessie can be contacted via email at junior.dean@kellogg.ox.ac.uk further contact details can be found on the Student Handbook College Wellbeing Contacts page.