Olympian Frances Houghton's inspirational Sports Dinner speech
Did you miss this year's Celebration of Sport Guest Night Dinner and after dinner speaker France Houghton's inspirational speech? Fortunately, Kellogg Fellow Jeremy Howick was there and shares below Frances' motivational Q & A session.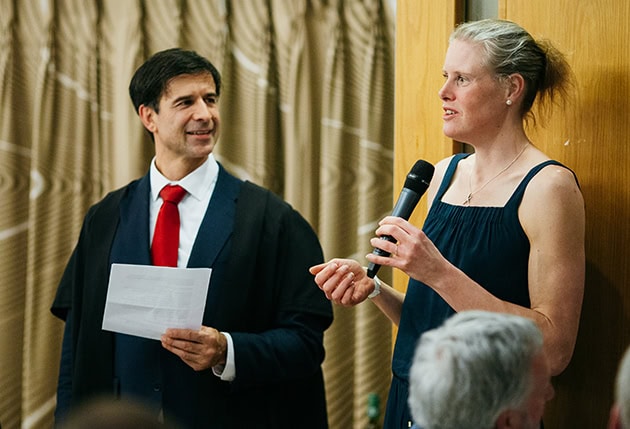 The Kellogg Sports Dinner last night had the typical delicious food and great company, but the icing on the cake was the amazing talk by Frances Houghton MBE. Frances is an Oxford native and her many accolades include 3 Olympic medals, and too many world championship golds to count. I'd never seen so many people queue up to talk to a speaker after a dinner talk. Some fellows found analogies between her leadership style and Vedanta philosophy; a blues rower wanted tips about how to answer questions for a BBC interview the next day; and a surgeon was struck by her reflections on the physical impact of emotional stress. What inspired such a response from the crowd? It was much more than her incredibly impressive track record. I think it was her sincere and down to earth style that was able to touch the hearts and minds of the crowd in an inspiring way. Instead of trying to attempt to explain further about the cause of her ability to inspire (which is inherently intangible to a great degree anyway), I'm going to reproduce some of what she said. This was quite easy since we ran her talk as a Q&A session (at her request).
Jeremy Howick, Fellow of Kellogg College @jeremyhowick
Q: What was your stand-out Olympic moment?
A: It was definitely when I watched Cathy Freeman win the Gold medal in the 400m at the Sydney Olympic Games. The home crowd fell completely silent as she pulled her Lycra hood over her head, and you could watch the flash of camera bulbs follow her as she raced around the home 400m track, then the eruption of emotion that filled the stadium when she crossed the line and fell to her knees as the first aboriginal Olympic Champion in history.
Q: What inspired you to get into serious rowing?
A: I was at my own school sports dinner when a former pupil (an Olympian – Nick Strange) gave a talk. I was so inspired by the stories of representing the country and mixing with the best athletes in the world, that I took the menu card in the centre of the table and wrote on the back of it "I vow to do everything I can to get to Sydney 2000." I got a friend to witness my signature. Four years later in Sydney I represented Great Britain as the youngest member of our most successful team ever.
Q: You studied alongside your first two Olympic Games, then went full-time. Did you significantly improve for focusing 100% on your sport?
A: I craved being a full time athlete when I was studying, but my best performances came whilst still a student. I soon found out that being a full-time rower made me over-think what should have been very simple tasks. To have two foci kept me fresh.
Jeremy added that this might be useful information for student/athletes at Kellogg.
Q: Did you have many setbacks?
A: Yes. I had multiple injuries and illnesses, but the setbacks caused me to reflect on what was most important to me, and what I most needed to improve. I would always think: "Why is this going to be the reason I became a champion?"
Q: You won six World and European titles under four different coaches. What do you think are the characteristics of a good leader?
A: The best leaders had clear and consistent messages, and they didn't pass stress on to athletes. The best leaders saw everyone in the team – whether the newest or eldest – as indispensable cogs in the wheels of success.
Q: In Rio you were the oldest in your crew. What was dynamic like within the team?
A: I took the role of trying to find out what made each member of the team perform and encouraged them to be the most natural version of themselves. I also tried to be the one that always kept the final goal in mind, rather than get distracted by the happenings of every day.
Q: What are the benefits of recreation and sport for you now that you are no longer seriously training?
A: I go into the gym for vanity, but come out with sanity.  In any day if I get some physical activity, human contact and intellectual stimulation, and have laughed at myself by the end of the day, then it's been a good one.
Q: How are you adapting to life outside of sport? / What are you doing now?
I'm exploring how to pass on the lessons I learned from sport. I speak to corporate audiences about the power of setting a clear goal, my experiences of good leadership, and what it feels like to be in the ultimate team, working either in groups or 1 to 1 with clients, and have recently published a booklet of my lessons from sport. I continue to mentor athletes, consult for UK Sport on high performance culture and their mental heath strategy, and I'm also a chef at home in Cornwall.
Follow Frances on Twitter @HoughtonFrances & on Instagram @houghtonfrances.