Sustainability and Kellogg
Kellogg College is taking action against global warming and climate change, as well as facilitating behavioural change among staff, students, fellows and members of the College. We are proud to say we achieved a NUS Green Impact Bronze Award in 2018, Gold Awards in 2019 and 2020, and a Beyond Gold Award in 2021.
Environmental Sustainability Committee
We have an active Environment Sustainability Committee made up of academics, staff and student representatives. Established in Michaelmas 2020, it meets at least once a term to help all departments of the College develop best practice.
The Committee consider and make recommendations on the following matters: sustainability relating to college energy consumption and consumables; encouragement of fellows, staff and students to consider sustainability in all aspects of college life; liaison with other groups and activities across the Collegiate University.
To contact the Environment Sustainability Committee with your ideas on how to make our college a more sustainable place to live and work, please email our Sustainability Fellow, Dr Chris Pugh at sustainability@kellogg.ox.ac.uk
Kellogg Sustainability Policy
The Sustainability policy is intended to provide:
• A set of achievable commitments for the period 2021-2025, enabling Kellogg to become a more sustainable college
• A framework for the collection, reporting, and monitoring of data for energy, water, and gas consumption, carbon emission, biodiversity and the sustainability impacts of food and supply chain operations for the College
• General guidance for decision making to ensure College activities are more sustainable and minimise their environmental impacts
• Recommendations for a timeline and objectives towards achieving net zero emissions, and net biodiversity gain by 2035 in line with University commitments
Green Impact Team
The Academic Office Green Impact team became the new Kellogg College team in 2019 to integrate all staff, fellows and students. A termly meeting is organised to coordinate our strategy and find new projects to develop.
We aim to consistently reach the standards to renew our Award every year and lead Environmental Sustainability initiatives all around the University of Oxford. If you want to join the team or attend our meetings, please contact the Sustainability Fellow, Sandie Byrne at sustainability@kellogg.ox.ac.uk
University of Oxford's first Passivhaus building
The Hub is the University of Oxford's first Passivhaus certified building. The Passivhaus 'green' standard is supported by the Hub Café's eco-friendly philosophy.
The building's construction means The Hub uses very little energy to heat and cool the building, whilst still offering a comfortable environment in which to relax.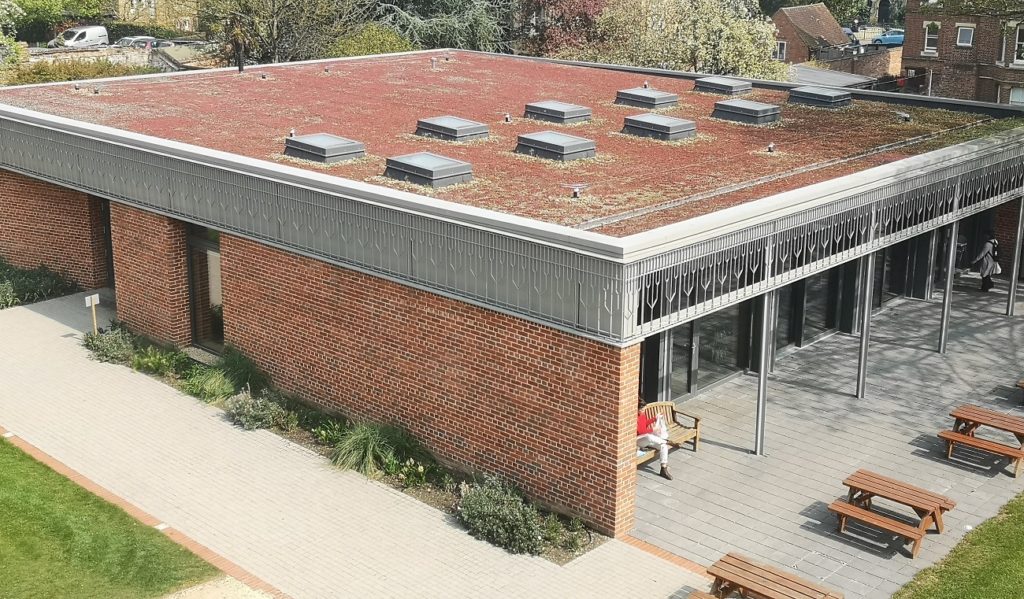 The Hub's Sedum roof
The roof is planted with sedum, which provides a microclimate for insects, positively affects the heat produced in an urban environment and helps filter rain water, that we recycle for our gardens. We also collect rain water from our 62 Banbury Road building for use on the gardens.
Watch The Hub being built
Hub Café
The majority of the packaging used in the Hub Café is compostable; the coffee served is Rainforest Alliance and Fairtrade approved; and food waste is recycled through the council scheme, along with waste from the main kitchen.
During Fairtrade fortnight in February, we introduce new Fairtrade products to raise awareness and support decent working conditions and fairer deals for farmers and workers in developing countries.
Water refill points are available to all in the café's open space.
Biodiversity
Kellogg College is not only the home of our students. Plenty of animals, insects and plants live in our gardens and we always try to improve their conditions.
Our "bee box", part of the University's Plan Bee project, is situated in our garden, behind The Hub, during spring and summer months. As part of this "Citizen Science" project, we have been taking photos and recording any activity in our "bee hotel" each month since 2018.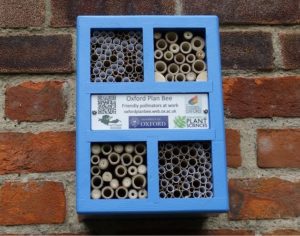 We host a small colony of Pipistrelle bats in our two bat boxes, attached to trees in our main garden.
We also have several Victorian apple and pear trees, which were part of our buildings' orchards when they were residential properties, in the late 1800s. College members are encouraged to harvest the fruit for their own use, and our chef uses them in recipes for College lunches and dinners.
Our two short-term accommodation properties, Anne McLaren House and Donald Michie House, recycle rainwater into soakaways to help irrigate the grounds and gardens.
In the future, we hope to install a birdbath with running water to attract more birds and insects to our gardens.
Abandoning single-use plastic
We are working towards abandoning single-use plastic across the College.
Filtered tap water is  served in the dining hall, in re-usable glass bottles.  We encourage the use of re-usable cups and water bottles in the Hub Café and offer a free drink deal when a Kellogg KeepCup is purchased, as well as a discount on hot drinks when customers supply their own re-usable cups/mugs.
At the beginning of each academic year, we provide students with free Kellogg tote bags, to discourage the use of disposable plastic bags.
OxBikes
Kellogg is an OxBikes depot.
Rent a bicycle to collect any time, 24 hours a day, with no deposit required. Visit OxBikes to view the bicycles that are available. Their bicycles come with a lock, and helmet rental is also possible.
Set up by Oxford students Louis Wright and Pedr Charlesworth, to promote health living and reduce emissions, OxBikes is a student run company that provides an online platform for both sale and rental of pre-loved bikes.
All profits raised from a donated bike are donated to World Bicycle Relief, a charity who meet the need for reliable transportation in developing regions.
Kellogg Sustainability Reports
As part of our Welcome Weeks programme of events  Kellogg Sustainability Fellow Chris Pugh and 2023-24 MCR Green Rep Erin Rugland spoke to students about sustainability at Kellogg, and how College members can get involved.
Kellogg Green Guide
The Kellogg Green Guide contains details of the College's green initiatives, as well as useful information and resources to help support a sustainable lifestyle.
Download a copy
Adopting Best Practice