Kellogg has made graduate study more open and accessible... and feels like it was created for me and others like me
An alumnus of Corpus Christi, Steve Hocking studied PPE and graduated in the mid-80s. He worked as a primary school teacher, before moving to the BBC, and becoming a television producer.
Steve has had a varied career at the BBC, winning awards for children's broadcasting and latterly, working there freelance, he has worked on coverage of several major state occasions and the Eurovision Song Contest. 
Steve is studying part-time for a DPhil in Global and Imperial History at Kellogg. We wanted to find out what it was that brought Steve back to the world of academia, and to Kellogg in particular.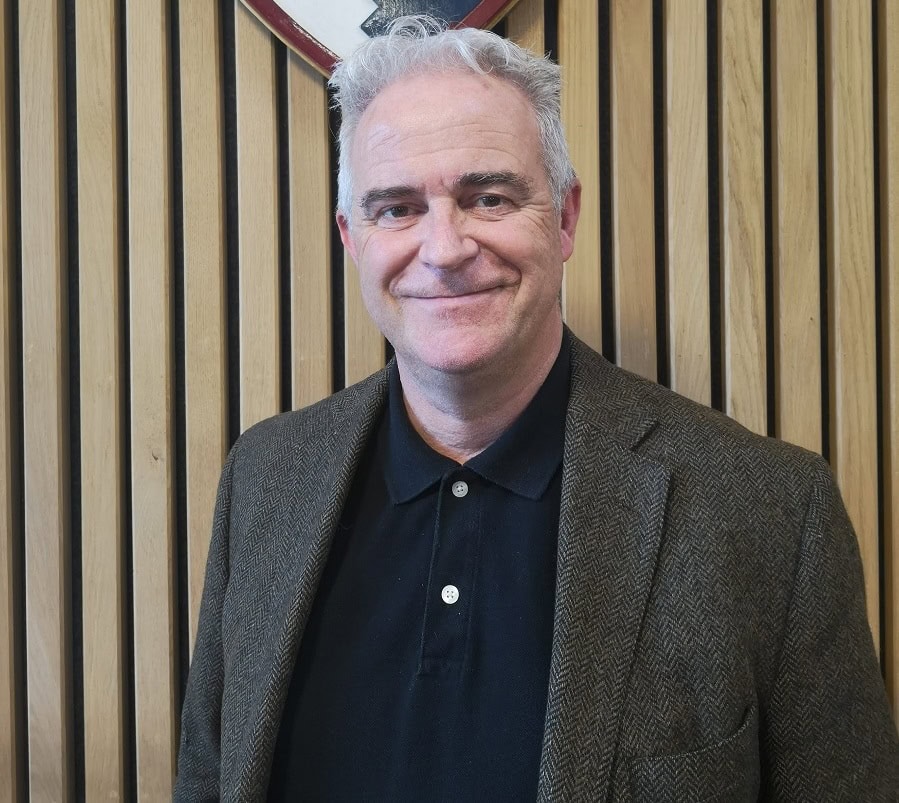 What made you want to start studying again?
My son studied for a history Master's at Oxford and I enjoyed talking to him about his course and discussing his subject with him.
I began to look into the options available to someone like me, who wanted to study part-time, and signed up to some online courses. I took courses on the British Empire, the English Civil War, the Elizabethans, Art History, and the Decline of the Roman Empire.
The online courses were the perfect reintroduction to learning and academic writing. They gave me the confidence to progress, and I went on to study for a PGCert, which I incorporated into my MSt in Historical Studies. Both were studied part-time, at weekends, with the Department for Continuing Education.
This year I began my DPhil in Global and Imperial History, at Kellogg.
Why did you choose Kellogg?
Whilst studying with the Department for Continuing Education, I was often drawn to the old photographs on the walls of the Common Room at Rewley House, and the story they told of adult education over the years.
Five or six years ago the idea of studying at Oxford again would never have occurred to me. Being the first College in Oxford to offer part-time courses, Kellogg has made graduate study more open and accessible. It's friendly and welcoming, and feels like it was created for me and others like me.
For those graduate students that are looking for the quintessential Oxford experience, you can still get it. Just visit the Bodleian Library, sit in one of its magnificent reading rooms and open a book you find hasn't been touched in decades and you'll soon feel every bit a part of the University's 900 years history.
Then head back to Kellogg and spend a wonderful evening eating dinner in the egalitarian Dining Hall, with an amazing mix of students, Fellows and staff, from all over the world, with the most diverse areas of study.
How do you keep a healthy work/study/home life balance?
I work freelance with the BBC and a lot of what I do is project based, so I'm lucky that I can structure my workload.
I've also found that much of the valuable networking is done in the early part of a part-time course, so anyone considering a part-time course should take this into account.
What would you say to someone thinking about starting a post graduate course later in life?
Study something you enjoy.
I am researching the influence early international radio broadcasts had on the relationship between colonial centres and colonies. Broadcasting history is an area I have a basic knowledge of but it is also a subject I am passionate about. To people in the 1920s/30s, radio was like magic – emigrants could turn a switch and hear voices from the other side of the world. It could induce emotions and cause reactions in people thousands of miles apart, and I love that thought.
The online courses I took were an excellent way to gauge my aptitude for learning. I had wonderful support from my tutors and, as I progressed, this support affirmed their belief in me and gave me the self-confidence to believe I could do it.
Finally, don't be intimidated. Kellogg was created for people like us and the academic and support staff are there for you, every step of the way.