Profile: Victoria Hummell (MSc English Local History)
Victoria Hummell is studying for a part-time MSc in English Local History. At 76, Victoria is one of our oldest students.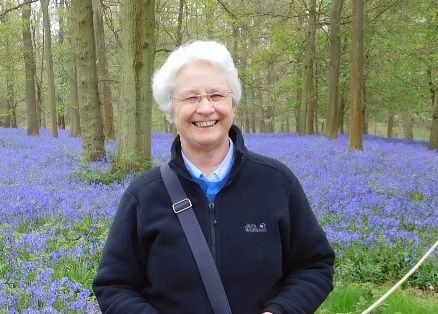 Tell us a bit about your life before Kellogg.
As a child, my parents would take us on family outings to Oxford; I fell in love with the city and its history, and always thought how wonderful it would be to study there. I loved archaeology, my mother would take my sister and me to visit Reading Museum to see the Silchester finds. We also visited Avebury and Stonehenge, I really wanted to be an archaeologist as well as a teacher. Unfortunately, in those days, academic opportunities were very limited, so on leaving school I attended a Catholic teacher training college, and became a primary school teacher. After a few years of teaching, I took time out to progress my career and study for an Education degree at Exeter University.
In 1971 I joined a religious teaching Order and became a nun. I taught in a number of different schools and spent many happy years in boarding schools. My interest still being in archaeology and history, I took my pupils to visit places like Hadrian's Wall, Vindolanda, and other archaeological sites. In 1989 I was asked to be part of a community serving the East End of London in Poplar, where I worked as a schools' advisor and OfSTED inspector. I was a member of the governing body of Heythrop College, London University, and completed an MA in Religious Education at Kings College, London University. During this time I was involved in the writing and editing of a national Catholic RE programme. I have also written a few religious storybooks for children.
What was your motivation to return to studying later on in life?
In 2008 I was granted leave of absence from my Order to take care of my elderly mother in Reading. After she died in 2014, I decided not to return to the Order and continued living in Reading where I had made many friends. It was here, in 2016, that I saw a leaflet from Oxford University's Department of Continuing Education publicising, amongst others, a short course in archaeology, called 'Humps and Bumps' with Jennifer Foster, so I signed-up. I wanted to challenge myself intellectually and thought Oxford offered a unique experience, so I enrolled in the two-year part-time Certificate in Archaeology. I enjoyed the course and the experience so much that, on completion, I enrolled to do the two-year part-time Diploma, then the Advanced Diploma. The courses were excellent: I was involved in excavations; had time to study; experience the libraries of Oxford; make new friends; and enjoy all that Oxford had to offer. I'm now studying for a MSc in English Local History.
Did you choose Kellogg in your application to the University?
I did, yes. I thought, given my age, a graduate college would be a better fit and I already knew people who were studying there. Oxford is full of diversity, and Kellogg in particular is alive to the issues of today.
We know it's only early days, but what have you enjoyed so far about your time at Kellogg?
I enjoyed Welcome Weeks and signed-up for a few activities, including the lunches and punting, but didn't pluck up the courage to have a go at the punting myself. I'm meeting lots of new people, from all over the world, and have had many fascinating conversations, including one with a Doctor from India and another with a Greek social worker.
What would advice would you give to someone thinking of applying to college later in life?
Try a short course first and if you enjoy it, take on something a bit longer afterwards. You do need to be disciplined though, and committed to your studies, but if you take the plunge, you will be rewarded with great opportunities and will meet some wonderful people.
Finally, tell us something about yourself not many people know.
I can often be found bodyboarding in Cornwall!