Reflections on my year at Kellogg
As his time at Kellogg draws to an end, Daniel Staudegger (MSc Mathematical and Computational Finance), reflects on his first few days in Oxford and shares his experience of College life over the past academic year.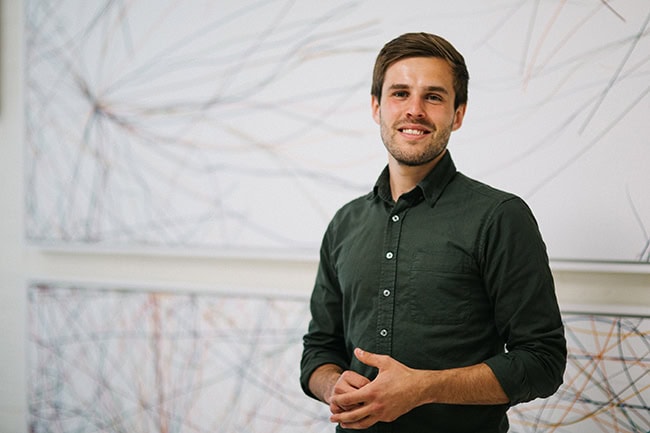 A little over a year ago I received the offer from Kellogg College to become a part of, arguably, the best university body in the world. I couldn't have been more excited, having never expected to get the chance to be here in the first place. But, well, here I am, with my one-year master's almost over and, looking back, it has been an incredible journey.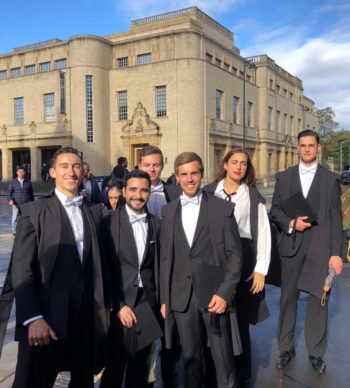 I remember my first day in Oxford, walking through town alongside the beautiful and impressive University and College buildings, and entering Kellogg for the first time. I was a bit nervous and unsure what to expect. I came here without knowing anyone else and thought that I would have to find my way around by myself, but Kellogg gave me the warmest and friendliest welcome one could possibly imagine, and it immediately became clear that I wouldn't be alone on my journey. Thanks to the amazing welcome weeks organized by the College and MCR, after the first day I had already met several amazing new people, all of us in the same position, curious to find out what will be expected of us here.
What we found was that Kellogg not only serves the best food (no doubt about that), but arguably has the most diverse, open-minded and stimulating community of all the Oxford Colleges. One thing I have realised during my time here: what makes Oxford, and Kellogg in particular, special, is the people you meet! It is truly inspiring to sit at lunch or dinner with people from so many varied backgrounds, with different experiences, from different fields of study, all engaging in a discussion; sharing their experiences and learning from each other's differing perspectives. I have never experienced an atmosphere where people shared their ideas and opinions so openly and respectfully. All those amazing people that inspire you every day become your close friends and partners in crime. I have learned so much this year, both in my course but also through the daily (and sometimes nightly) conversations and discussions with my fellow Kellogians, and I am eternally grateful to everyone who has made the Kellogg experience such a special one.
Now one could think that Kellogg – as a very new and young college – misses some of the charm of the very old and traditional colleges, and one could fear to miss out on some "Oxford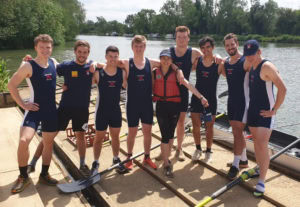 tradition". Here is the good news: Kellogg in fact has a joint rowing team with Christ Church, which means that Kellogg students have access to the most prestigious boat club of Oxford. In my first week, I joined a taster session at the Christ Church Boat Club – just because I felt "this is the most Oxford thing to do". It was a nice session and the community at the boat club was very welcoming and friendly, so as someone who always liked to do sports as part of my daily routine, I joined the novice boat to train for the Christ Church Regatta.
Getting up at 6 am for the training might sound really hard, but knowing that your fellow Kellogg and Christ Church teammates would be there waiting for you gives you the push you need. And, once you have escaped the cozy comfort of your bed and sit in the boat, rowing along the Isis with your teammates, being part of this more than a hundred year old Oxford history; that feeling is the best start to the day one could think of.
Rowing is not only a good workout, it also teaches you a lot about working together as a team, making sure everyone is synchronized and pushing each other to and beyond your limits. In rowing, the strongest crew is not necessarily the fastest, more often it's the one who works together most efficiently.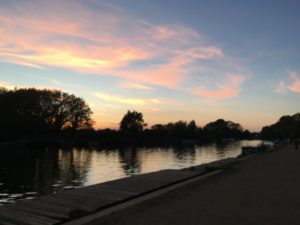 It has been an absolute pleasure for me to row in the Kellogg/Christ Church team and win 2nd place in the novice regatta, where all Oxford colleges compete in a knockout system, as well as represent the College in the traditional Torpids and Summer VIIIs bumps racing, hunting down other college boats. All those early mornings (sometimes cold and snowy, sometimes with a beautiful sunrise); the sessions in the erg room; the hard work from the whole team throughout the term; all of that pays off when you sit in the boat in Summer VIIIs, racing past the boathouse and hearing the shouts from your College friends, all of whom came down to cheer and support their College and give us the extra energy to perform at our very best. Those were moments I would never want to miss.
This feeling of community and togetherness – both in the college and in the boat club – gave me a sense of home here; a sense of being part of a big family. It made me feel accepted and welcome from the very first day, and provided a unique environment for me to grow and thrive. I will fondly recall the amazing time I have spent here and will always hold a special place in my heart for Kellogg and its community.