The digging goes on: Fantastic finds and community engagement at Hanwell Castle dig
As part of his part-time DPhil in Architectural History research, Kellogg student Stephen Wass has undertaken a study entitled, Voyages to the House of Diversion, Seventeenth-Century Water Gardens and the Birth of Modern Science. As a member of the Chartered Institute for Archaeologists he also works in the commercial sector, specialising in historic gardens, and supervising a variety of works mainly for the National Trust. His current research is centred around the remarkable gardens at Hanwell Castle, in north Oxfordshire.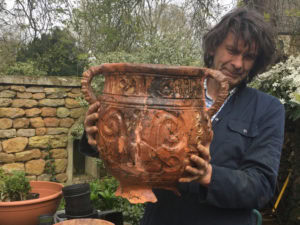 I was first inspired by a reference in Robert Plot's Natural History of Oxfordshire published in 1678, where, as well as noting a number of wonders and marvels that were part of this garden, he also describes it as the true 'New Atlantis'. This is a reference to a fictional work published earlier in the century by Sir Francis Bacon, who was proposing a model for what today we would probably describe as a science and technology-based university. Such an establishment would have consisted of two elements: first of all, a group of like-minded people who shared their interest and experience in all things scientific; and secondly, a suitable environment in which scientific thinking and experimentation could be carried out. Suggesting that such an establishment existed in actuality at Hanwell Castle prompted research into the historical basis for Plot's claim, concentrating on the castle's owner, Sir Anthony Cope and, in particular, his links with some of the key figures in what was later termed the 'scientific revolution' in Oxford, in the 1650s.
In an attempt to understand how this particular setting could have supported and influenced early work in the sciences, a second strand of research aims to recreate, on paper, the layout and features of Sir Anthony's garden. As there are virtually no contemporary sources for the garden and its setting (apart from Plot) archaeological investigations, including survey work and excavation, have been the key approach to understanding the site. The bulk of this work has been done by a team of volunteers, both local and from further afield. We are especially proud of the fact that, over the past few years, we have welcomed school students who are keen to have a taste of archaeology before going on to read the subject at university. We have also been able to give placements to undergraduates who wish to broaden their experience of digging, and post-grads who seek to develop their CVs within the context of the job market. Our work force has included volunteers from Belgium, Italy, Greece, Iceland, Norway, Canada and the USA. The second element of our volunteer programme has been working with older members of our community; recruiting individuals who have retired and are looking for an interest that engages them intellectually, but also challenges them physically. One of the most fruitful areas of our project has been the interaction between these two disparate elements of the population.
We operate all year round, usually meeting for two days a week to continue with our excavations or, if the weather is bad, to work under cover on processing the many fascinating finds we have made. During the early days of the Covid-19 pandemic, like everyone else, we were locked down but, from July onwards, we have been able to return to work outdoors, with suitable social distancing and measures to sanitise facilities and disinfect equipment.
Our current focus of interest is a feature referred to by Plot as 'The House of Diversion'. Within this structure he described a fountain that used a column of water to toss a ball in the air and an arrangement whereby 'showers may be made to descend at pleasure', within which one could place a lighted candle without it being extinguished. The building was almost certainly dismantled after Sir Anthony's death in 1675, following a major family falling out around a disputed inheritance. We have found significant debris from this process in the moat that formerly surrounded it, including some remarkable window glass engraved with a star motif. The most extraordinary finds, however, are a series of large terra-cotta flowerpots and garden urns (I'm holding one in the picture above) – nearly fifty at the most recent count. These pots originally perched on an octagonal perimeter wall and, at an early stage in the destruction of the 'House of Diversion', were simply pushed off into the mud of the moat, where they were then crushed below a mass of rubble as the walling was taken apart. This appears to be a unique assemblage; we believe that nothing else exists anywhere else in the world quite like it, and it will no doubt be the subject of an extended programme of research for many years to come.
Follow Stephen and his teams' work on the Voyages to the House of Diversion website and on Instagram @polyolbion.