Peer Support offers an accessible and informal opportunity to talk through issues which may be concerning you. It can help simply to get things off your chest and know that someone is willing to listen and take time to understand what's on your mind.
All Peer Supporters are trained to listen effectively, communicate sensitively, maintain confidentiality, respect boundaries, and recognise when and how to refer to professional support services. Peer Supporters attend ongoing fortnightly supervision through the University Counselling Service to consolidate their training. All Peer Supporters abide by a Code of Practice.
You can talk with a Peer Supporter about anything that is troubling you. Common issues include stress, anxiety, uncertainty about the future, homesickness, and family or relationship problems.
If you would like to talk with a Peer Supporter, please email peer.support@kellogg.ox.ac.uk. Your email will be replied to within 24 hours. Peer Supporters will be present at most social welfare events in College so feel free to approach them directly.
Peer Supporters 2020-21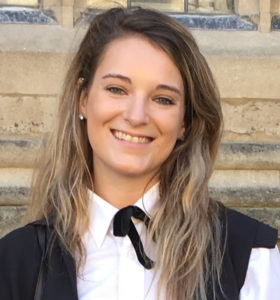 Brenda McCollum
"I grew up on a dairy farm outside of a small town in the middle of nowhere Kansas. I went to a university, also in Kansas, with less than 1,000 students. Having a tight-knit, small community has always been an important part of my life. When I came to Oxford in 2018 for my MSc I was thrilled to find a similar type of community in the college system. The Peer Support system interested me from the first time I heard about it. Although the communities I've lived in have always been small, they rarely had a system like Peer Support. This has always been an issue for me, as I've watched so many of my loved ones struggle quietly with life stress, mental illness, and other issues. The Peer Support program gave me the training to finally be able to reach out and give the appropriate type of help to those that need or want it. I loved being a Peer Supporter last year at St Antony's and look forward to taking on the role this year at Kellogg."
Contact: peer.support@kellogg.ox.ac.uk
---
Heather Kayton
Before pursuing a DPhil at Oxford, I worked as a teacher in South Africa. My years as a teacher taught me the importance of having a strong relationship between emotional wellbeing and academic learning. The community structure that is created in the collegiate system at Oxford is a great resource for supporting and maintaining a balance between wellbeing and academic performance. I see the peer support system as a particularly valuable tool and was drawn to learning more about ways in which students can provide support for each other during their time here. Being away from home can be particularly challenging, and the high demands of Oxford life add to the difficulties of studying abroad. As an overseas student, I find the diverse backgrounds of my Kellogg peers a unique resource that can help us to learn and cope during our time here. I see peer support as a tool which can help use these shared experiences to create a stable and supportive environment for everyone
---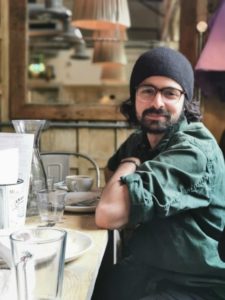 Neil Suchak
I'm a first year DPhil student at Kellogg. I grew up in London and came to Oxford to study an undergraduate degree in history in 2014, after which I spent a year in London working in public relations. I then returned to Oxford for a master's in history at Kellogg, where I am now completing my DPhil. I am well-versed in the stresses of life at Oxford, whether these be the pressures of exams and submissions, the lingering effects of imposter syndrome, or simply the difficulty of finding your feet in a new social environment. When these pressures became too much, I have relied on the support of those around me in the college community, and have often informally supported friends and colleagues experiencing these very problems. The peer support programme has been a fantastic way to build upon these experiences, as it has given me the tools to provide suitable support to those who need it. Whether you need to talk through a problem (big or small), or want to be pointed to more formal ways to get support, myself and the peer support team are here to help.