Founding Fellow pays tribute to NHS after Coronavirus Treatment
Kellogg Founding Fellow Professor Malcolm Airs OBE was discharged from the John Radcliffe Hospital on 16 April, after spending six days there, receiving treatment for Coronavirus.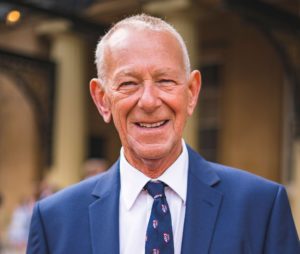 Malcolm was admitted to hospital on 7 April, on the instructions of his GP, where he tested positive for Coronavirus. He received oxygen and anti-biotics, but, fortunately, did not require a ventilator.
Malcolm has been back at home in Dorchester on Thames for a week now, and is growing stronger every day. He paid tribute to the staff at the JR, saying, "My treatment at the JR was quite exceptional. Both doctors and nurses made me feel like a real human being and not just another sick patient. After one night I was moved to a high dependency respiratory ward where I had my own room and was able to respond to the oxygen and antibiotic drip in relative comfort. I was kept informed of my progress at regular intervals and was subjected to all sorts of tests and injections which were all explained to me. Although it was a horrible and lonely experience, I am deeply grateful that I live in the catchment area of such a wonderful hospital."
Malcolm's son, Thom Airs, shared the family's feelings at the time, "The need to keep visitors away from hospitals meant it felt like a very long six days while dad was in the JR, so it was a huge relief to first hear that he was responding to treatment and then see him return home.
"The care from the NHS began with a video appointment via his local surgery in Berinsfield and continued through to the incredible work carried out by the doctors and nurses at the John Radcliffe. All of us in the family feel so fortunate to have a world-class hospital on our doorstep."
Malcolm also paid tribute to his wife, Megan, "The greatest bonus of all is to be back home with Megan. She has been tremendous in providing all the support that I need… The worst thing about being in hospital was being isolated from family and I am just so grateful that we are back together."
He added,  "I have been quite overwhelmed by all the messages that I have received from colleagues, former students, friends and everybody else."
We wish Malcolm and his family all the best, and look forward to welcoming him back among his Kellogg family, very soon.