Kellogg GCHU made Gold Standard Internship Host
We are delighted to announce that the Kellogg Global Centre on Healthcare and Urbanisation (GCHU) has been made a Gold Standard Internship Host by the University of Oxford Internship Office.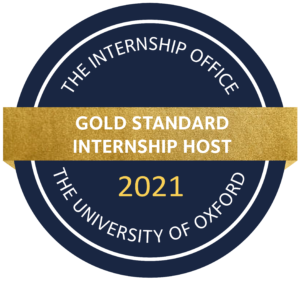 The Internship Office have designated this award in recognition of the support the GCHU has given their students over the last academic year and for the quality of the internship experiences provided and maintained by the Centre.
Past interns' experiences with the GCHU have included:
having their internship research article accepted for publication in the BMJ Evidence-Based Medicine;
presenting their internship research as one of the panellists at a GCHU public seminar;
having their internship research printed and circulated at a GCHU public seminar;
enjoying a lunch at Kellogg, hosted by the GCHU, and a tour of the College.
The GCHU will continue its excellent work with the Micro-Internship Programme over the coming weeks, hosting another six interns, in partnership with The Prince's Foundation. The GCHU will also be taking part in the Careers Service's Crankstart Internship Programme.
Find out more about the Kellogg Global Centre on Healthcare and Urbanisation and its work: https://www.gchu.org.uk/