Kellogg Cricket Club makes its presence known
Kellogg's Cricket Club may have only been founded last year but it is definitely making a mark on the Oxford College cricketing scene. Club Captain, Tim Fraser gave us a rundown of their 2022-23 season.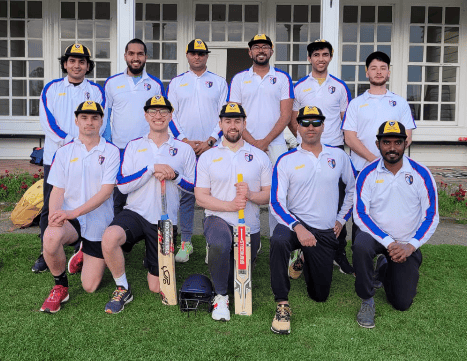 'The Kellogg College Cricket Club was established in 2022. To give a little perspective, some college teams date back to the 19th century! Despite this, the team achieved significant success in its second year.
'Kellogg played in the two annual intercollegiate cricket tournaments: Fortress T20 (the "League") and "Cuppers". Both competitions take the Twenty20 format and are played in Trinity term at the various college pitches across Oxford. In the League, teams with the most points in their group qualify for the knockout stages. Cuppers is solely a knockout tournament.
'With wins including bowling St John's College out for 34 runs and defeating University College by 10 wickets, Kellogg comfortably qualified for the knockout stages of the League. Kellogg went on to defeat Jesus College and Pembroke College in the quarter-final and semi-final respectively. In the final, Kellogg faced a tough New College team, falling short of their total. Kellogg came 2nd out of 29 colleges, took home the silverware and qualified for next year's League competition.
'Kellogg defeated Exeter College and St Hilda's College to qualify for the quarter-final of Cuppers against Balliol College. Despite great performances all round, Balliol chased down Kellogg's strong total on an unpredictable pitch.
'With excellent cricket from the entire squad, this summer has been fantastic for the club. Almost 30 colleges competed in the League and Cuppers. Having come second in the League and qualifying for the quarter-final of Cuppers, the team can hold their heads up high.
'Everyone interested in playing has had a chance to represent the College and enjoy playing cricket across the city. Significantly, throughout the season, the team remained supportive, social and full of passion. For this reason I have no doubt that Kellogg cricket will see more and more success in the future.
'If you are interested in playing for the College in the next academic year, please feel free to sign up. Everyone is welcome. Information can be found on the College website Sport and Recreation page.'
Tim Fraser
Kellogg College cricket captain (2022-2023)
Kellogg Cricket squad 2022-23
Tim F
Mike H
Siddharth A
Alex C
Tom U
Akash R
Sahil J
Daniel W
Abdullah R
Joe D
Naga S
Israr K
Adam G
Jacob E
Govind G
Moosa W
Anna G
Olly M
Omar P
Dan S
Liam F
Adrian S
Amar P
Malitha R