The untold story of the Women's Auxiliary Air Force during World War Two
'Never in the field of human conflict was so much owed by so many to so few.'
In her latest book, The Women Behind the Few: The Women's Auxiliary Air Force in British Intelligence During the Second World War, Kellogg Common Room Member Dr Sarah-Louise Miller explores the untold story of the Women's Auxiliary Air Force (the WAAFs) in supporting the RAF during World War Two.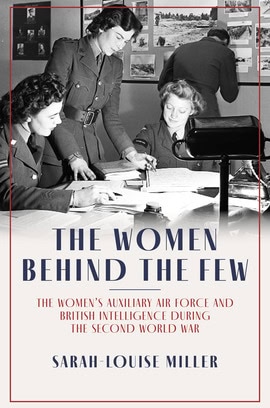 'Vividly written and based on superb research…' (Michael Smith, author of The Secrets of Station X: How the Bletchley Park Codebreakers Helped Win the War) The Women Behind the Few highlights the work of the WAAFs within the Dowding System, the world's most sophisticated air defence network, as well as in the Y Service, intercepting German communications. Throughout the Blitz, they used radar to aid Fighter and Bomber Commands in protecting Britain's civilians.
WAAFs also assisted with the Allied offensive bombing campaign and were behind the discovery of the terrifying German V-weapons. Their work was critical ahead of the Normandy landings and they were present in their hundreds at Bletchley Park.
Sarah-Louise writes, 'While researching for my book, I came across stories from women who had served with the RAF during the Battle of Britain. Stories of courage and fear, heartbreak and elation, pain and joy… so many experiences.'
Following Churchill's famous speech, the unquestionably heroic male Battle of Britain Royal Air Force fighter pilots became known as 'the Few'. In this thrilling book, Sarah-Louise Miller brings the women of the force back to life, celebrating their wartime contribution to British military intelligence. Hidden behind the Few but vital to their success, WAAFs supplied the RAF with life-saving information. Here, for the first time, is their story.
The Women Behind the Few: The Women's Auxiliary Air Force in British Intelligence During the Second World War (Biteback Publishing) is released on 9 March 2023. Pre order a copy here
Sarah-Louise will be launching her book at Bletchley Park on 11 March 2023. Find out more and register to attend via the Bletchley Park website
Sarah-Louise Miller is a historian of war and conflict, specialising in the Second World War and the use of military intelligence. Sarah is currently a visiting scholar at the University of Oxford's Faculty of History, where she is researching the wartime experiences of women in the Pacific theatre of war, specifically Pacific and Polynesian Islanders.
She is the author of Women in Allied Naval Intelligence in the Second World War: A Close Secret, and Hawaii's Women at War, and is working on her fourth book, which examines the work of the Women's Royal Naval Service in Western Approaches and wargaming.