Kellogg student awarded CBE in Queen's New Year Honours List
Kellogg student, Paul Hackett, has been awarded a CBE in this year's New Year Honours List.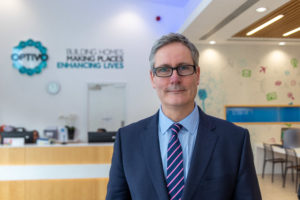 Paul, who is studying part-time for an MSt in Sustainable Urban Development, is Chief Executive of Optivo, one of the largest housing providers in the UK. Optivo invests heavily in neighbourhood community programmes, helping their residents with training, careers and financial advice. The organisation also focuses on sustainable living, to help improve their resident's health and reduce energy bills.
Paul told Optivo, "I'm truly humbled to receive the CBE. This award is a recognition of the hard work of many staff and residents who've helped Optivo become the organisation it is today and our efforts to become a sector-leader in resident involvement."
Optivo writes, "In a decade of outstanding leadership, Paul was instrumental in the turnaround of AmicusHorizon, which had previously been under regulatory supervision, and then its merger with Viridian to form Optivo. The organisation is now consistently securing one of the highest customer satisfaction levels of any housing association, currently 95%."
Read more on the Optivo website.