Meet Kellogg's sibling students Marlene and Hannah
We chatted to sisters Marlene and Hannah Försterling about what it was like studying at the same College.
Marlene Försterling first came to Kellogg to study for a MSc in Psychological Research in 2020 and is currently working on her DPhil in Experimental Psychology. Hannah has been at the College since October 2022 and is pursuing a MSc in Sociology.
I met Marlene and Hannah in The Hub for a coffee and chat. It wasn't long before their sibling bond became evident; Hannah took no time in pointing out some cappuccino froth on Marlene's lip, Marlene's response being: 'This is what I have to put up with studying at the same college as my sister!'
I started off by asking them about their paths to studying at Oxford.
Marlene: I'd not really thought about applying to Oxford, but it turned out the course outline was the best fit in terms of my interests, and although I was a little nervous about it, I applied and got in.
In terms of choosing a College, I knew I wanted to go to a postgrad college, and Kellogg, and its ethos of egalitarianism and community, reflected my own values. I'm really glad I chose it, not least because my first year here was during Covid and my department was closed, so the College, especially my housemates in 7 Bradmore Road, became a stable and higly appreciated community.
Hannah: Also, and it's probably not for me to say, but Marlene is a recipient of a Kellogg Progress Scholarship.
Marlene: I am. In fact, that's what has allowed me to remain at Oxford to continue my DPhil, so I am really grateful for it.
Hannah: I studied sociology and psychology for my undergrad at Innsbruck and wanted a postgrad course that supported my research that was both quantitative and interdisciplinary, and Marlene mentioned this course at Oxford. And we both liked the prospect of spending time together for another year.
Initially, I applied to another College, as I thought it might be a bit strange to share a college with my sister, but I happened to be allocated Kellogg and I am now very happy that I was. I really enjoyed the extended Welcome Weeks, as they helped me get orientated before I started at my department; I know a lot of people on my course found it quite hard taking everything in in just one week, when their college and department Welcome Weeks coincided.
We went on to discuss what it was like studying at the same College as your sister.
Hannah: The positives definitely outweigh the negatives. I was lucky when I first started to be able to meet people through Marlene's circle of friends. Although, it wasn't hard to make friends around College, especially as I live in College accommodation – in fact, I'm in the room next door to Marlene's old room! You also meet so many interesting people at lunches and dinners; conversations at mealtimes are both international and interdisciplinary.
I asked Marlene if she still has the same link with Kellogg and the friends she made in College accommodation now she lives in private accommodation.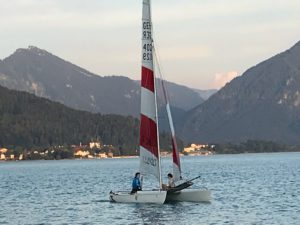 Marlene: I do yes, and I enjoy coming into College to catch-up; it's nice to get away from my department sometimes and my DPhil bubble.
Because Hannah's here as well, we also get the chance to sail together – we used to sail catamarans when we were at home, so it's nice to be able to continue that.
Comms: So, you sail as part of an Oxford Uni crew?
Hannah: Marlene sailed as part of the Uni crew last year and – she won't tell you herself – has a Blue!
Marlene (laughing): Yes, I sailed for the University. (Marlene also rowed in the Christ Church/Kellogg W2 boat during the recent 2023 Torpids), and Hannah and I want to do social sailing together in Trinity term.

I asked what their next steps were once they completed their respective courses.
Marlene: Nothing's decided but the possibility of a post-doctoral research post would be nice, to continue my research on affective processes in prosocial behaviour, with a special focus on body posture.
Hannah: I already have a contract with a consulting firm in Germany for autumn this year. I might return to academia to do a DPhil/PhD, though, and eventually aim for consulting in the public sector abroad, but at the moment, it's nice to just take advantage of being together.