Meet our Monika Tesarova Fund Bursary recipients for 2023
Congratulations to Zoe Brown and Luisa Jarchow on being awarded this year's Monika Tesarova Fund Bursary.
Find out more about their research, and how they benefitted from the award below.
The Monika Tesarova Fund Bursary, is made available due to the generosity of of a College Fellow, and exists to support a Kellogg student wishing to invest in their studies or take up an opportunity while studying at Oxford that they would ordinarily be precluded from doing due to financial constraints.
---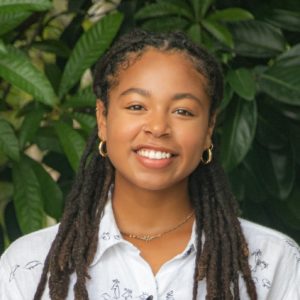 Zoe Brown (MSc Biodiversity, Conservation and Management)
I would like to thank the Monika Tesarova Fund Bursary for supporting my master's research on cocoa agroforestry in Ekiti State, Nigeria. Without this award, I would not have been able to cover vital expenses to facilitate my travels to the field site, particularly mandatory vaccinations and visa costs.
The importance of this research extends beyond my master's dissertation, as the project exists in partnership with the Ekiti State Forest Commission of Nigeria and is relevant to the needs of the local people in this region. This project will not only assist in establishing baseline understandings of land use in the State's forests, but will also guide future agricultural and forestry policy towards sustainable resource management and improved livelihoods. Additionally, my project is part of a long-standing partnership between the Ekiti State Forestry Commission and the University of Oxford. Therefore, completing this field assignment helps to sustain this mutually beneficial collaboration between these two institutions.
The ability to pursue this opportunity has immense academic and personal meaning to me. I am grateful to the Monika Tesarova Fund Bursary and Kellogg College's willingness to support its students.
---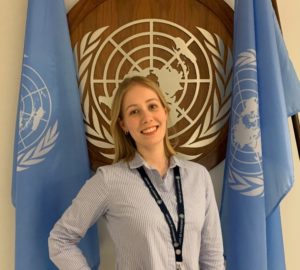 Luisa Jarchow (MSc Water Science, Policy and Management)
I am extremely grateful to have received the Monika Tesarova Fund to support my attendance of the 2023 UN Water Conference in New York. Attending the conference has been an unparalleled opportunity for a young female water professional like myself. Indeed, it was the first conference of its kind since 1977, where the highest-level water professionals and organisations met; making it an unprecedented opportunity for networking and exploring career options. In attending the plenary discussions, interactive dialogues, and specialised side events, which all worked toward determining the world's future path for water and climate change, I was able to greatly improve my expertise in the field.
Travelling to the UN Headquarters to take part in this once-in-a-generation conference has been a great honour and has contributed significantly to my Master's studies in Water Science, Policy and Management.
Find out more about the Monika Tesarova Fund Bursary and other ways Kellogg can assist you with your studies.