Meet our Naji Foundation Scholars for 2021-22
We are delighted to announce our two Naji Foundation Scholars for the 2021-22 academic year, Dr Sinéad O'Neill and Muireann Harte.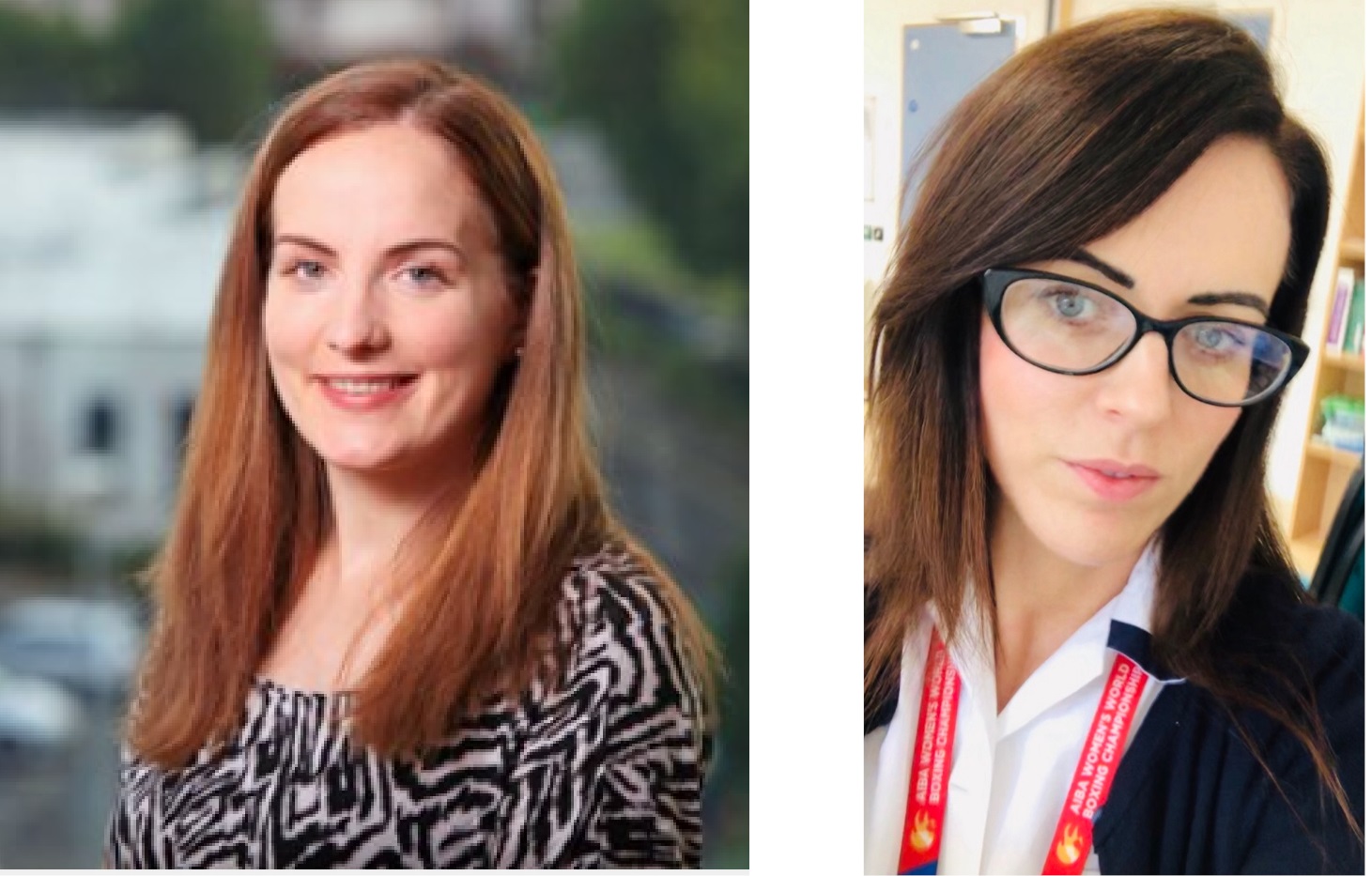 Dr Sinéad O'Neill (pictured left) has been a Health Technology Assessor at the National Centre for Pharmacoeconomics since May 2021. She graduated with a BSc in Public Health (2008) from the School of Epidemiology, University College Cork (UCC) and holds a First Class Honours Master in Public Health from UCC (2009). In 2010, she was awarded a Health Research Board Ireland (HRB) scholarship on the SPHeRE PhD programme in Health Services Research, based in the National Perinatal Epidemiology Centre (NPEC). She received the Shani Rushin Memorial award for academic excellence in her PhD cohort. Her thesis investigated 'Caesarean section delivery and subsequent subfertility – a longitudinal Danish register-based cohort study'.
Sinéad worked as a Post-Doctoral Fellow in the Irish Centre for Fetal and Neonatal Translational Research (INFANT) from 2010-2014 where she was awarded a HRB-funded Cochrane Fellowship. Her Cochrane review 'Different insulin types and regimens for pregnant women with pre-existing diabetes' informed NIHR guidelines in the UK. Sinéad subsequently worked in the Health Information and Quality Authority (HIQA) as a Health Services Researcher within the HTA Directorate from 2017-2021, providing methodological support in the development of national clinical guidelines in Ireland.
Sinéad told us, 'Being awarded the prestigious Naji Foundation Scholarship to complete an MSc in Evidence-Based Health Care at Oxford will support my professional role on a day to day basis by increasing my use and understanding of evidence in healthcare, to make informed choices and decision-making, and will build on my passion and interests in the area of systematic reviews, meta-analysis and evidence-based methodologies to inform HTAs. I will be able to share my new skills and knowledge among colleagues and in the wider health care disciplines in Ireland, further building on the current evidence based health care remit'.
Muireann Harte (pictured right) is a Clinical Specialist Physiotherapist currently working in acute care, providing advanced orthopaedic triage as part of the HSE Quality and Clinical Care Directorate Clinical Pathway Development Initiative in National Orthopaedic Hospital Cappagh, Dublin Ireland. She has over seventeen years post qualification clinical experience, including over ten years as Advanced Practice Physiotherapist within the NHS and HSE, and as lead sports medicine physiotherapist with the Irish Sport Institute. She was also employed by the IABA (Irish Athletic Boxing Association Ireland) medical team, and previously treated Olympic athletes during high performance sports competitions, including the London 2012 and Rio 2016 Olympic Games, and 2019 IABA World Championships.
Muireann completed a BSc HONS degree in physiotherapy at the University of Ulster in 2004, and she has developed her skills further through various post graduate courses, including a Musculoskeletal Association of Chartered Physiotherapists (MACP) Master's in Musculoskeletal Physiotherapy, SOM Diploma in Orthopaedic Medicine, and AACP Diploma in Acupuncture, and RCSI Postgraduate Module in Musculoskeletal Injection therapy. She is currently leading the development of a 'first contact practitioner' service in NOHC, and complying a retrospective cohort study service evaluation to identify the potential for future development of advanced physiotherapy practice roles within the HSE in Ireland.
Muireann told us, 'The opportunity provided by the Naji Foundation Scholarship, to study for a master's in Evidence-Based Medicine at Oxford University, has ignited my enthusiasm for EBM, removing my previous barriers and knowledge gaps of the basic skills of EBM. Now passionate about the implementation of EBM in healthcare, I am committed to delivering high quality evidence-based patient care. I knew it was my duty to become an active member of the Evidence-based Practice Ireland (EBPI) network, promoting the use of EBP in the HSE by facilitating Evidence-Based Practice training workshops for health care staff, delivered in HSE Regional Educational Centre. I am also responsible for the planning and development of service initiatives and patient pathways aimed at improving waiting list targets and the flow of patients through acute care.
I am ready and qualified for the next stage in a successful career and looking forward to making a significant contribution within an advanced physiotherapist practice role, developing high impact evidence-based clinical interventions that make a real change to patient experience quality of care. I hope to become a future EBHC DPhil student in oxford.'
The scholarships are made possible through the kind generosity of the Naji Foundation. The Foundation was established in 2014 by entrepreneur and philanthropist Samir Naji with the aim of supporting activities and research that increase the use and understanding of evidence in healthcare.