Profile: Thembelihle Mvula (MSt Creative Writing)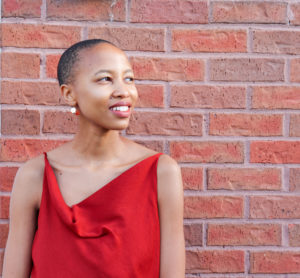 Thembelihle Mvula is in her second year of the MSt in Creative Writing. She talks to us about her experience of being a student at Oxford.
Why did you apply to Oxford?
Simply because it's considered to be the best programme for what I wanted to do and that felt important to me. I think we're all well aware of the benefits that come from studying at a prestigious University and I think that is no exception when it comes to the writing world. I saw this MSt as me taking one more step on my journey into becoming a serious writer and being a writer who went to Oxford adds weight to that seriousness. Although throughout early school teachers remarked that I was bright, I went to State schools that weren't considered to be very good. I managed to get into a really good, non-Russell group university (University of Kent) for my undergraduate degree and I loved my experience there. But I also wanted to go a bit further and studying at Oxford was a bit of a dream for me.
If you are part-time, do you have a job and/or caring responsibilities? How do you juggle it all?
I work full-time as a projects officer whilst studying. It does involve a great deal of juggling and blocking out time dedicated to certain things well in advance. As my job is mostly remote, I also find that it helps to separate where I do work for my course to my 9-5 job by leaving my flat and working in the library when I can.
How do you think the Oxford experience differs for black students?
It's an interesting question because for me, as it was for most people in 2020, the University experience was very different to what we've known or expected due to the lockdown. My first year of the course and the beginning of Year 2 has been taught online. I think this has impacted how fully I'm able to appreciate what the Oxford experience is. That being said, I think that what I understand to be the Oxford experience – access to amazing learning resources from professors to the library, networking opportunities with other bright and "Oxford worthy" students and everything in between – differs to some extent for me because of my relationship to how much I feel I'm entitled to it. I think being surrounded by people who are from the same background or having a family history of Oxford alums can give a level of validation that makes it easier to feel like you belong here. Imposter syndrome is something that I'm aware is common for people of various backgrounds, but I feel like as a black student that also comes with an added pressure to prove that you have earned your place here, despite being the minority.
What has been your experience of being a Kellogg student?
Kellogg is lovely, I've found it pretty easy socialising with people and have engaged in activities such as punting and attending talks with guest speakers which have been great. Being part of a more egalitarian college definitely helps make it easier to integrate with the student community.
What do you think is the best thing about being part of the Kellogg community?
The egalitarian values and friendliness of students.
Do you have any advice for future black applicants to Oxford?
Believe that you belong here because you really do!