Research Member of Common Room receives L'Oreal-Unesco Award
Kellogg Research Member of Common Room Dr Bernadette Stolz has received a L'Oréal-UNESCO Women in Science Rising Talent fellowship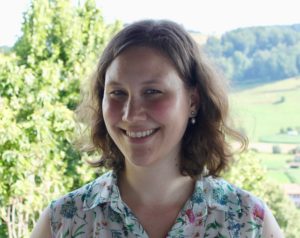 The L'Oréal-UNESCO for Women in Science programme highlights the achievements of younger women who are in the early stages of their scientific careers in the UK and Ireland. This year, five grants have been awarded across the fields of Engineering, Mathematics and Computer Science, Life Science, and Physical Sciences, with two being awarded in the field of Sustainable Development.
A Postdoctoral Research Associate in the Centre for Topological Data Analysis, at Oxford University's Mathematical Institute, Bernadette Stoltz's research applies mathematical methods that study 'shape' in data to show the complexities in cancerous tissue which could help with treatment predictions and scheduling.
The fully flexible fellowship, worth £15,000, will allow her to extend her work to mathematical models of tumour vasculature to enable predictions and investigate links between form and function. She will further develop techniques based on persistent homology to quantify heterogeneity in cancer tissue images and develop novel biomarkers for patient stratification, disease phenotyping, treatment prediction, and treatment scheduling. Ultimately, she hopes to make persistent homology biomarkers standard for cancer diagnosis and prognosis.
Bernadette told us, "I am really thrilled and humbled to have been given this year's L'Oreal-Unesco For Women in Science Rising Talent in Mathematics and Computer Science Award. At a career stage where it is vital to establish myself as an independent researcher, it is wonderful for my work to be recognised in this way and the award will allow me a worry-free focus on my research. As my work is located at the intersection of pure and applied mathematics and biology, personal interactions are crucial to grow my research network and initiate collaborations. However, attending seminars and conferences is very challenging with two young children. The award will also provide practical support to overcome these challenges by funding ad-hoc childcare, state-of-the-art IT equipment to flexibly work from home, and enabling me to invite collaborators to visit me."