Street Voice Citizens' Jury initial interim report presented to Oxfordshire County Council
Following weeks of presentations and discussions, the Kellogg College Global Centre on Healthcare and Urbanisation's Street Voice Citizens' Jury initial interim report goes to Cabinet at Oxfordshire County Council.
The Street Voice Citizens' Jury brought together 16 people broadly representative of the population of Oxford, to provide robust public input into the question 'How can we travel where we need to in Oxford in ways that are good for health and the climate?'
The Jury met over four weekends in June and July 2022. They were provided with evidence related to this question that had breadth and diversity, and were given the time and space to learn, discuss and agree on ways forward that would lead to recommendations.
The initial interim report describes this process and offers initial insights into some of the key messages from the Jurors. A full report, including detailed recommendations and an evaluation of the process, will be prepared for an Overview and Scrutiny Committee meeting in September 2022.
The Street Voice interim report was item 16 on the Cabinet's agenda. This was an open Council meeting, and you can watch on Teams using the link here
Read the Street Voice Citizens' Jury initial interim report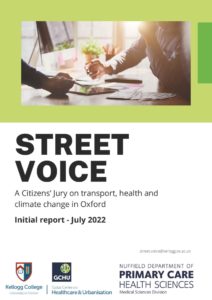 You can access resources used during the Street Voice Citizens' Jury sessions, including recordings of the presentations and accompanying slides, on the GCHU website
Further highlights and reflections on the sessions can be found on the GCHU blog