Kellogg alumna chronicles the realities of a pandemic
In 2020 Kellogg alumna Millie Stone (MSt Creative Writing) was all set to start a promotional book tour, when Boris Johnson announced the start of England's first lockdown.
Three years, three lockdowns and several restrictions later, Millie has published her book Unlocked: Portraits of a Pandemic, which chronicles the realities faced by 33 different people during the Covid restrictions, and in the months that followed.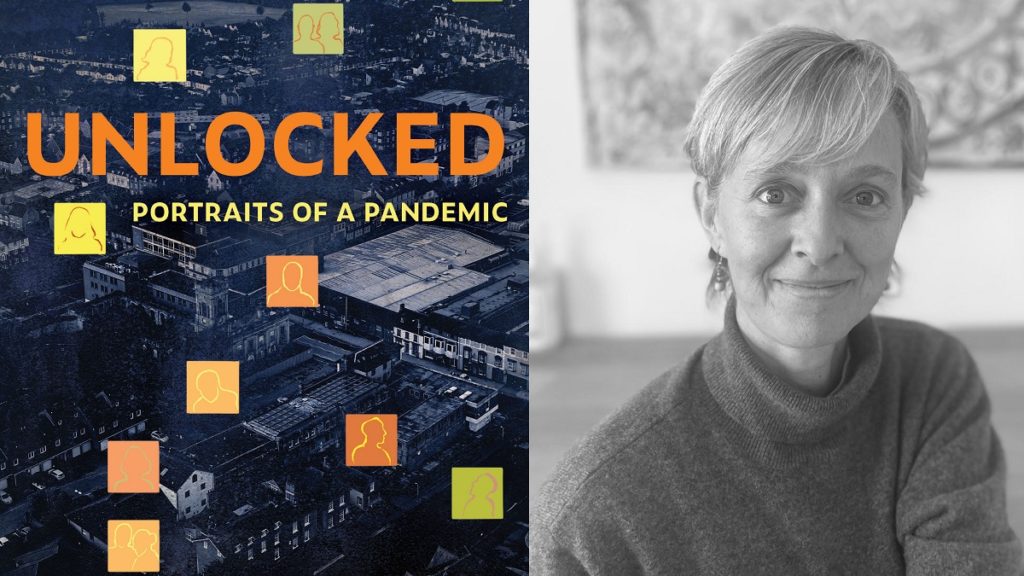 Unlocked: Portraits of a Pandemic by A. J. Stone
'I finished my MSt in Creative Writing in 2017; it had been a perfect reboot after years of caring for children, both as a residential social worker in a children's home and as a mum. Soon after the course ended, I was commissioned to write 28 children's learn-to-read books. I was just about to go on tour promoting these books when, in March 2020, Boris Johnson announced, 'You must stay at home.'
'As weeks of lockdown turned into months, I became interested in how a microscopic virus was changing our lives and view of the world. Going from funeral home to labour ward, temple to pub, I began interviewing people about their day-to-day experiences of living through this time.
As it was lockdown when I began this project, I interviewed people over Zoom and soon found this method had its advantages. People could be in their own homes, but without any pressure to tidy up or host. And, while Zoom might make us feel at one remove compared to an in-person meeting, this was not necessarily a bad thing as it meant I could slip more easily into the background. Sometimes people chatted as if I was barely there. Indeed, a university student said that she had basically told me her life story because she felt like she had been talking to herself.
'One of the hardest parts of writing the book was putting together the introduction. I wrote a first draft and my editor asked, 'Where are you in this introduction?' It was a very good question. Other people had been so honest about their experiences, and after considerable family discussion, I knew I had to be too.
'Lockdown had been dominated by my then fourteen-year-old daughter who had previously been diagnosed with anorexia nervosa. In fact, due to ill health, she had been signed off school ten days before the first lockdown. Hiding beneath baggy clothing, her desire to disappear was threatening to overwhelm any instinct to survive.
'When England's national lockdown began, her absence from school blended in with everybody else's. I'd never say lockdown was a good thing, but for her it was somewhat of a blessing as it removed all the tension of being different, standing out, missing. Having my daughter at home 24/7 meant her anorexia was also home at all times. Her struggle was shared by all in my household, though as my husband and son were working full-time, I was her main supporter and challenger during the day.
'My daughter and I settled into a routine. In the mornings, she would do the worksheets sent through by her school while I wrote, then we would spend the afternoons sewing, giving new life to old clothes, piecing together, stitching and unstitching.
'The days were punctuated by the regular snacks and meals prescribed by her eating plan; food is an anorexic's medicine, while also being what they most fear. Lockdown meant I was constantly present to put up a persistent fight against the voice in her head that raged against every mouthful. By this time, I had worked out most of her tricks of slipping food onto my plate, up her sleeve, into a pocket. Refeeding is not an easy journey: she fought hard and calculated secretly; could the calories she'd just consumed after a two-hour battle with me be somehow nullified by a sneaky midnight workout? But slowly, during the turmoil and the quiet of lockdown, she regained weight, and, with it, her life.
'So, for myself, despite the isolation and anxiety of caring for my daughter, I can look back on a precious, unhurried time of togetherness that formed an integral part of her recovery. Now, as we return to our busy lives and my daughter flits from one social to another and my son is barely home, I sometimes miss the times we had together as a family and hanker after plan-free weekends. This is just my story, and, of course, others in the book have very diverse tales to tell.'
Unlocked: Portraits of a Pandemic is widely available, including from Amazon and Waterstones