Kellogg Community Engagement Award Winners
2021 Award Winners
Luyang Jin – MSc Higher Education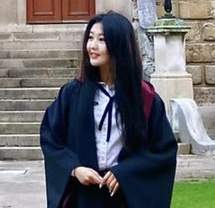 Luyang is the secretary of Oxford University Gliding Club and is involved in a great number of societal activities. Luyang worked on the 2021 U8 World Innovation Summit, which took place in May of that year. The summit's mission is to explore the cutting edge of innovation and to establish a trans-national and multi-disciplinary platform to engage leading scientists, humanists, entrepreneurs and professionals around the globe. She is also working with the Chinese Students and Scholars Association, helping Chinese students access information about jobs during the pandemic.
Shauna Solomon – MSc Sustainable Urban Development


Shauna is a board member for the Sydenham District Association (SDA) in Canada. The SDA, a local community organization, advocates for development which maintains the health and sustainability of the district in addition to celebrating the rich architectural heritage. Shauna has spearheaded projects on social media by increasing outreach to the community, as well as expanding the mandate of the Tree Committee to include community and education elements alongside the planting of trees and perennials. Shauna has also contributed to the content of the monthly SDA newsletter 'The Village Pump'. Despite the pandemic, the board continues to work together and with local stakeholders to address critical issues such as affordable housing, traffic calming and density.