Kellogg Creative Writing Competition Winner 2023 announced
We are delighted to announce Yaning Wu as the winner of this year's Kellogg Creative Writing Competition, in association with the Kellogg Centre for Creative Writing.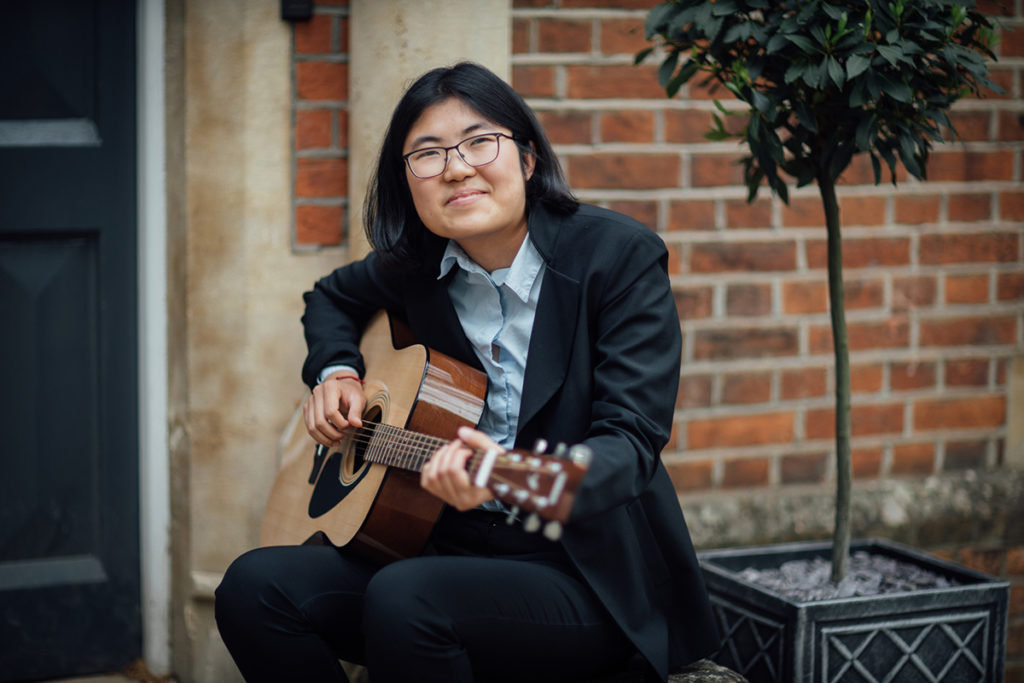 Yaning's winning entry, based on the competition's theme of 'Homecoming', was a poem set to music, entitled There is the home key. Yaning received a £50 book token donated by the College as first prize.
We asked Yaning to tell us about her entry:
This poem tells three true stories from my experience playing music in healthcare settings. Reflecting on the theme of this competition, I chose to tell these stories because hospitals bring people home. I half-composed and half-improvised some simple music to accompany my reading so that audiences can, too, sit and imagine how hope can saturate scary places.
The panel of judges, made up of Dr Clare Morgan (Director of the Kellogg Centre for Creative Writing, Director of the MSt in Creative Writing and Kellogg Fellow), Dr Sandie Byrne (Associate Professor in English and Kellogg Senior Tutor) and Frank Egerton (Novelist, Core Course Tutor, MSt in Creative Writing and Kellogg Common Room Member) said of Yaning's entry:
This entry demonstrates a high standard of poetic composition, handling the subject in an original and arresting way. Structurally it is well controlled, with inventive use of imagery and language. The conceit of the home key to which the music returns is congruent with the narrative voice, and the perspective of the musician in synecdochal snapshots is handled well, with voice and lineation conveying the lilt of the narrator's thoughts. The poem addresses a range of successive ideas, moods and feelings, evidencing overall a significant philosophical and existential scope.
Congratulations also go to runners-up Julian Hall, whose piece of prose My brother, with Cornflowers came second, and Deborah Mason whose poem Somewhere over the rainbow, came third.
Thank you to everyone that entered this year's competition – we had entries from a variety of members, not just students, whose backgrounds covered several disciplines – and well done to those writers whose work was shortlisted.
Listen to Yaning Wu perform her poem:
Read this year's entries
(Published with permission from the authors. Not all entries are listed.)
Winner: There is the home key, by Yaning Wu (MSc Global Health Science and Epidemiology)
2nd place: My brother, with Cornflowers, by Julian Hall (MSt Creative Writing)
3rd place: Somewhere over the rainbow, by Deborah Mason (Member of Common Room)
Earned Homecoming, by Sara Farnworth (MSt Literature and Arts)
Leera Dahab (Arabic for "Gold Coin"), by Sandra Hiari (DPhil Sustainable Urban Development) (shortlisted)
Escape, by James Holmes (MSc English Local History)
Homecomings, by Jonathan Livingstone-Banks (Research Member of Common Room) (shortlisted)
Homecomings, by Sakshi Setia (MSc Translational Health Sciences)
The Lesson, by Elliot Vale (MSt English) (shortlisted)
Winner, Yaning Wu

Second place, Julian Hall

Third place, Deborah Mason