My journey to Oxford from life in a children's home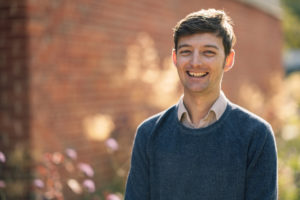 We spoke with new Kellogg student, Matt Taylor (MSt Creative Writing) about his journey to Oxford. Matt, is a 'care leaver'; a care leaver is an adult who has spent time living in the care system, away from their family. In Matt's case, he grew up in a children's home. It's estimated that only around 6% of 18 year olds leaving the care system in the UK enter into higher education, rising to around 12% for 19-21 year olds. Matt tells us about his decision to apply to Oxford and his initial thoughts after his first few weeks here. 
Travelling from the hilltops of the Peak District down to Oxford is a journey I've made a hundred times before, having worked in a recording studio in the Oxfordshire village of Eynsham. But this time felt different. As the car glided onto the panorama of the M40, adrenalin rushed to my toes. This was a journey that was never supposed to happen. This was my first day as a student at the University of Oxford.
Let's rewind a little…
I was not born into the privileges of the traditional students who come to this iconic university. Instead, I grew up in the care system, in big rowdy, unruly children's homes. The educational statistics for children in care have always been poor, and I was no exception. Infested with a woodworm of low expectations, at fourteen, I dropped out of mainstream education. But I managed to turn things around at sixteen and just about scraped two GCSEs.
Now fast forward back to today, thirteen years later. An amount of time equal to compulsory education had been spent catching up, not accepting it was too late, not accepting I had destroyed my life chances, exterminating the woodworm.
The number of care leavers entering the top universities each year often floats in double figures – less than 1%. During my admission interview, I was asked, 'why Oxford?'. This is a question loaded with elitist bias because, to someone from my background, why not Oxford. It's a passport to a better life, to access better opportunities, and to break free from the societal straight jacket that has restricted me. Because the grim reality is as a care leaver, I had more chance of being interviewed by the police than by Oxford. However, this wasn't the answer I gave. Instead, I spewed some guff from the course website and hoped for the best.
I have a habit of slightly misreading emails, so when that offer came through, I was sure I was misreading it. I couldn't believe that the plotting and strategising and hard work had paid off. But when my foot first crunched on the gravel at Kellogg College, I felt less like an imposter but more like an intruder. Like I was breaking in and ruffling through the drawers of a world I was never supposed to be in. Even though I was no longer infested, the scars were still there.
Kellogg's distinctiveness comes from only having postgraduate students, many of whom are part-time – instantly breaking the perception that Oxford only hoovers the carpet of private school pupils. Although I haven't met any other care leavers yet, I was struck by how many people had a story like mine. How they had gone off and done other things, but kept hold of the dream of achieving a place at Oxford. Because of this, Kellogg instils a core value that it's never too late, and if you never give up, there is a place for you here. I was no longer an intruder. I was home.
One thing I'm now asked is what advice I would give to care leavers who may want to go to Oxford. Simply, it's never let your circumstances define you. Being a care leaver is not my identity; it's just a part of who I am. So be brave and have that leap of imagination. Thanks to Kellogg, it will feel like you're supposed to be here. I know it's hard to be what you cannot see, but us care leavers who have defied the odds are out there. So come find us, and we'll help.