The most fun I ever had in a boat
James Tufnell (MSc Applied Landscape Archaeology), describes his experience of rowing in the Christ Church/Kellogg M3 boat, at the 2019 Summer VIIs.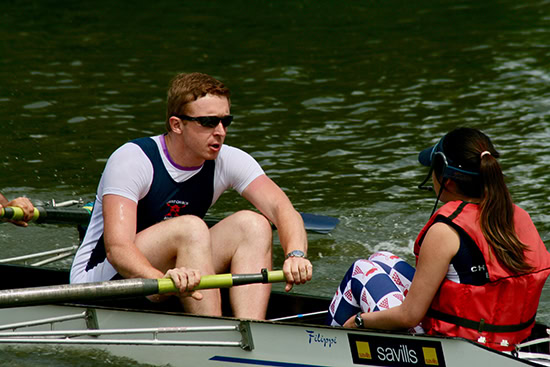 "Believe me, my young friend, there is nothing – absolutely nothing – half so much worth doing as simply messing about in boats."  Rat, The Wind in the Willows, Kenneth Grahame

Last week I had the immense honour of representing Kellogg and Christ Church in May Bumps. Despite, having learned to row over ten years ago racing at Oxford University's May Bumps was quite possibly the most fun I have ever had in a boat. Having stopped rowing competitively a few years ago, following a brief foray into low key international rowing, it is hard to put into words the joy I felt hoping into a boat with my fellow Kelloggians for a bumps campaign.
All the reasons I initially fell in love with rowing as a school boy in rural Oxfordshire came flooding back to me while training for the races: the sun dancing off the water and the rhythmic sounds of boats and blades gliding through the water. The experience resonated perfectly with the utopian vision of summer rowing in Oxford that is synonymous with the University.
Rowing for one's college Summer Bumps was a truly unique experience in a plethora of ways. Only at Oxford do the subjects discussed in pre-race conversations range from very complicated mathematical deliberations about the optimum point for the blade to enter the water, to the origins of the Germanic language, and which college served the best pudding, Christ Church or Kellogg (by common consensus Kellogg won). Only at Oxford (well and Cambridge) are the races started not by a whistle but by a cannon. Only at Oxford do famous national companies host client hospitality events in your boathouse supporting you as keenly as your fellow students. Only at Oxford do both winners and losers give three cheers to each other with such joyful vigour in celebration of their recent competition. Only at Oxford is the college that wins the Head of the River allowed to host a celebratory ritual boat burning party. Only at Oxford is so much joy, kindness, good humour and passion perpetuated by an eccentric rowing competition.
I would like to thank all the men and women that support Christ Church rowing in their various intrinsically important ways for all their help, patience and compassion. Without their help we would not be able to row. I would also like to thank OURCs for their tireless work putting the event together, if it weren't for their efforts, these historic races wouldn't continue.