DPhil student receives prestigious early-career award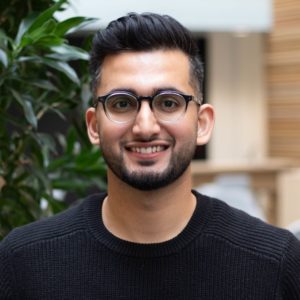 Kellogg DPhil student Danial Qureshi has been awarded a highly-competitive Doctoral Research Award from the Canadian Institutes of Health Research (CIHR). This is one of the most prestigious scholarships available for Canadian doctoral students conducting research abroad, awarded to candidates judged to have an exceptionally high potential for a future research career.
Danial joined Kellogg and Oxford Population Health as a DPhil student in October 2021. His research focuses on improving our understanding about how cardiometabolic and vascular risk factors for dementia interact, as he explained: 'We know that many commonly-occurring conditions such as diabetes, obesity, hypertension, and high cholesterol are risk factors for dementia. These conditions often co-occur in individuals rather than in isolation, yet there is currently very little evidence about how these different conditions interact within individuals to influence their risk of developing dementia. My aim is to use the amazing data resource within the UK Biobank to investigate the impact of co-occurring cardiometabolic and vascular conditions on the risk of dementia.'
After completing a degree in Life Sciences at McMaster University, Canada, Danial applied to study an MSc in Health Research Methodology at the same institute. Despite receiving several fully-funded PhD offers in Canada, Danial chose to study at Oxford. Explaining his decision, he said: 'I wanted to go outside my comfort zone and experience a new environment with a different healthcare system. '
Reflecting on his time at Oxford so far, Danial told us: 'My experience at Kellogg has been fantastic thus far. I came to Oxford not knowing anyone at all, but in just a few months I've made so many connections and friendships with people. In particular, the Welcome Weeks organized by Kellogg and its MCR really helped facilitate a welcoming environment that allowed me to meet so many people. The best part is you get meet people from literally all over the world. Kellogg is so diverse, and that is a huge advantage of being here. You get to learn, interact, and build friendships with people from various countries, cultures, and backgrounds. This is exactly what I was looking to gain as part of my Oxford learning experience. Because of the strong level of diversity at the college, I have been able to enhance my learning experience; for instance, from simply listening to the different perspectives that people have on various topics of discussion, I've become more open-minded and creative in my own thinking. I think these traits are important for one's personal development, but also beyond.
Furthermore, Kellogg has allowed me to take on activities of my own interest. For instance, there was no basketball team at the college, but after reaching out to Kellogg with a sports funding proposal, my friend and I were able to successfully create a new basketball team (running since Michaelmas Term 2021). The college generously awarded us with funds for the entire academic year to support this new Basketball club! The co-ed club has gained a lot of interest from both full-time and part-time students. I really appreciate how welcoming the college has been when it comes to starting new initiatives like this. Clubs like this create a sense of community and belongingness in the college and should be encouraged by other colleges as well.'
He went on to talk to us about what he hopes to achieve during his time at Oxford: 'I joined Oxford Population Health with the aim of becoming a Research Scientist in Epidemiology, and a particular interest in conducting research focused on dementia prevention and improving care for older adults. There are several goals I hope to accomplish by pursuing this programme:
1) learn and develop skills required to become an effective independent research investigator;
2) develop and strengthen my technical and quantitative research skills by working with large databases and world-leading academics;
3) gain a better understanding of dementia research and translational epidemiology so that I can apply my learnings to future research activities and roles that will, hopefully, reduce the burden of the disease on society.
My long-term scientific goal is to use the skills acquired from my training to harness the power of big data and epidemiology. I hope to apply my learning to conduct research aimed at addressing questions pertaining to prevention, treatment, and diagnosis of populations at risk of developing dementia and related conditions.'
As a recipient of the award, Danial will receive $105,000 over three years to support his research activities. 'Besides providing financial security so that I can focus on my studies, this award will also allow me to take up additional development opportunities, such as attending dementia-related conferences, and undertaking training courses to enhance my technical skills. I feel incredibly grateful to receive this prestigious award. I am currently in the early stages of my career in health research and academia, and I still have so much to learn. This award will help support my continued learning and research at a world-renowned institution as I examine ways to prevent dementia, one of the most complex diseases of our times.'