Giving Day 2023: Save the date!
This Giving Day we are seeking your support to transform Kellogg's green spaces.
Transforming our gardens will greatly enrich the lives of our diverse community of students, enhancing their health and wellbeing – as well as creating new habitats that will increase biodiversity right in the heart of Oxford.
To realise this vision, we are working with Andy Sturgeon – an award-winning British landscape and garden designer. Thanks to generous donations from the Herbert Lane Trust and Chris and Alison Day, in memory of former Emeritus Fellow Chris Day, we have already made an exciting start to our vision becoming a reality. Our central lawn area has been redeveloped to increase biodiversity, provide additional seating, and create new habitats.
"Gardens offer a critical contributor to health and wellbeing – that of social engagement. The initiative to transform Kellogg's gardens reflects the growing recognition of how our health and wellbeing can be influenced"
Kamal Mahtani, Kellogg Fellow and Professor of Evidence-Based Health Care
With your support this Giving Day, we will transform the rest of our green spaces to enrich the lives of students at Kellogg – now and for future generations.
Please donate to transform Kellogg's grounds into inspired spaces where nature and learning can intertwine.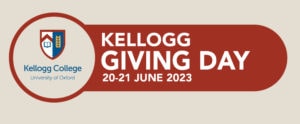 Connect with us on social media using #KelloggGrows