In memoriam Professor Angus Hawkins
It is with regret that we announce the passing of former Kellogg Bursar and Fellow, Professor Angus Hawkins, who died unexpectedly over the Christmas period.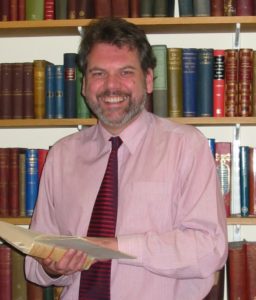 Professor Hawkins was a Fellow of the Royal Historical Society, Director of International and Public Programmes at the Department for Continuing Education and Director of the Research Centre in Victorian Political Culture at Keble College.
Kellogg Fellow, and Professor of Modern British and European History and Director of Studies in Modern History and Politics at OUDCE, Professor Tom Buchanan remembers his friend and colleague:
For all of his academic success, Angus – throughout his career at Oxford – was above all a magnificent colleague and very popular tutor (especially of the graduates that he supervised). In the 1990s the Department was a much smaller community than it is now and Angus touched everyone's life, most memorably by his musicianship at Departmental and college events. He forged a remarkable musical partnership with our former colleague, the late Brian Hitch, with Angus on viola and Brian on the piano. He remained a devoted chamber musician until his untimely death. His many qualities and personal attributes helped beyond measure to make the Department what it is today – he will be sorely missed by the whole Rewley House community, and far beyond.
You can read Professor Buchanan's full tribute here.
Kellogg President Professor Jonathan Michie, also paid tribute:
I was fortunate on my return to Oxford in 2008 – to be Director of the Department for Continuing Education and President of Kellogg College – to have Angus as a welcoming and supportive colleague in both institutions. At Kellogg, as Bursar, Angus played a great role in our successful move during the course of 2008 to the College's permanent Norham Manor site, and then in ensuring that the new site was utilised fully for the benefit of students, alumni, fellows and other members and friends of the College. An early initiative was to establish the Burns Night ceilidh, and there is a great photo of him in full tartan regalia on the dance floor.
At the Department for Continuing Education Angus helped establish and develop several new programmes. During my 13 years to date, we have had two successful programmes migrate to our partner departments, and two programmes move into Continuing Education at the request of the relevant Division, namely the Diplomatic Studies Programme from Social Sciences and the Bachelor of Theology from the Humanities, and Angus oversaw both these successful migrations, and in the case of Diplomatic Studies, added a Master's degree to the portfolio.
Angus developed several other important programmes, which supported the strategic ambitions of the Department and University. With the University's commitment to interdisciplinarity, Angus took the lead in developing our Master's in Literature & Arts, and subsequently the linked Doctorate in Literature & Arts. The Postgraduate Certificate in Historical Studies was designed to enable those from other disciplines to pursue a study of history; a linked Master's provides an opportunity for progression. I could give further examples, but the key point is that Angus thought strategically, recognised that we were a Department for Continuing Education – not just for 'part-time study' – and developed new programmes that would deliver this historic mission in new, relevant and exciting ways.
Angus also served on the Executive of the Universities Association for Lifelong Learning, and hosted their annual conference in Oxford. While Angus was on sabbatical last year, I joined the UALL Executive, and learned in what high regard Angus was held not just in Oxford and globally, but also nationally. Since his untimely death, I have been inundated with moving and inspiring messages from within the University; from current and former students and staff; and from other figures nationally and internationally. Angus's impact will continue to be hugely positive, not just through his memory and publications, but through the successful programmes he crafted – and the work of the alumni from those programmes, across the globe.
Our thoughts are with Professor Hawkins' family and friends.