Kellogg alumna and Paralympic rower Grace Clough to take part in first inclusive Virtual Boat Race
For the first time ever, on Saturday 13 June 2020, at 3pm, Paralympic, Olympic and club rowers, representing teams from Oxford and Cambridge, will compete side by side in the MCH.London Virtual Boat Race to raise funds for Power2Inspire, whose "mission is to embed inclusive sport in the sporting, education and community landscapes."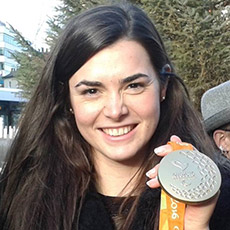 Amongst the rowers will be Kellogg alumna and former Paralympic rower Grace Clough, who won gold for Britain in the 2016 Rio Paralympics.
Grace and fellow rowers, such as World champion Oliver Cook, Olympic triple gold medallist Pete Reed, Australian para rower Renae Domaschenz and gold medallist Tom Ransley, will race from their homes across the world. There will also be commentary from the BBC's Garry Herbert and Martin Cross.
Experience the thrill of watching these fantastic oarspeople compete in a virtual sporting event. The race will be available to watch online at Power2Inspire's Give as You Live page from 3:00pm BST – with an option for viewers to donate to the charity.
Find out more here: https://www.power2inspire.org.uk/inclusive-virtual-boat-race/
Support inclusion through sport and CHEER ON YOUR TEAM!