Kellogg alumnus' 'Dreams' come true
What if reality is worse than your most devastating nightmare?
This is the tag line for Kellogg alumnus Chris Fox's first novel Dreams, due to be published in December by Arrow Gate Publishing.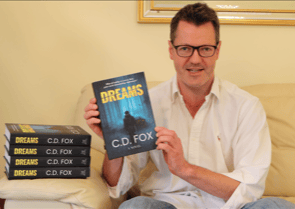 Dreams is the story of Hugo Swann, a young undergraduate in his first term at Oxford University. Things are looking up when he meets Alice, his new girlfriend, but a series of strange dreams are having a terrible impact on his mental health.
Before long, he'll encounter a mystery woman with whom he forms a deep bond, while Alice becomes obsessed with solving the riddle of his dreams. And when she finally works things out, will Hugo want to know the truth of what she discovers?
Dreams is a psychological mystery thriller. ​It blends the themes of love, coming of age and psychological suspense.
Chris, who writes under the name C D Fox, studied in at the University of Oxford, graduating from Kellogg in 2015 with a Distinction in his Learning and Teaching MSc. He began writing the book in his early 20s but, after abandoning it to complete two master's degrees, it wasn't until the Covid lockdown of 2020 that he found himself with the time to revisit and resurrect the manuscript. By the summer of 2021, after several drafts, the manuscript was finished and in March 2022, Chris signed with Arrow Gate Publishing.
The book is available to order in the UK from Blackstones, Waterstones and Amazon, or Barnes and Noble in the US.
Find out more about Chris and his writing on his website