Kellogg student curates first exhibition of Native American Art at the RAI
Based on artworks collected during her DPhil fieldwork, Kellogg student Natalie Hill has curated the first exhibition of Native American Art to be housed at the Rothermere American Institute.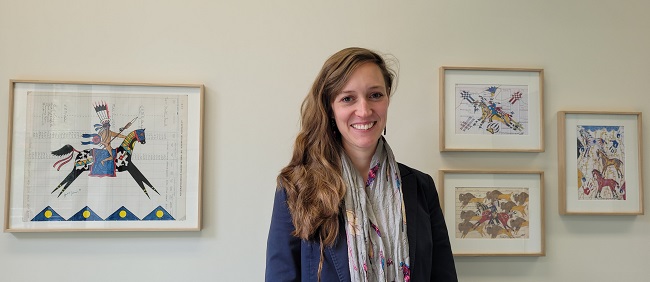 Evoking The Horse: Indigenous Artists of the North American Plains
Showcasing Native American art relating to horses, and ringing together the artwork of several contemporary Northern Plains artists, these collected works consider the relationship between people and horses, and the cultural, spiritual and political significance of the horse both in the past and today. Alongside this, the exhibition encourages reflection on the value of exploring art and objects in academic research.
This small collection represents artists from the Apsáalooke (Crow), Pikuni (Blackfeet), and Lakota (western Sioux) Nations. It presents original artworks from Mona Bear Medicine Crow, Ernest Marceau, Birdie Real Bird, and Jeremy Johnson, along with printed works from Earl Biss and Butch ThunderHawk. The artists take inspiration from historical Indigenous artistic traditions, such as ledger drawing, painted parfleche designs, and beadwork, whilst innovating and reworking ideas to respond to their contemporary world.
Natalie (DPhil History) told us, "The artworks in this exhibition came together through the kindness and generosity of many people. For most of 2017 and the next two summers I undertook ethnographic fieldwork for my DPhil, which looks at the relationship between Northern Plains Indigenous communities and horses, and how those relationships were and still are depicted in art, c.1700 to the present day. I stayed on the Apsáalooke (Crow), Tsis tsis'tas (Northern Cheyenne), Pikuni (Blackfeet) and Lakota (Western Sioux) Reservations. The friendship and spirit of giving I encountered were unparalleled. These pieces came together through my search for horses depicted in art; some were gifted to me, a few I bought from artists who were connected to my research. By bringing them together and exhibiting them in the Rothermere American Institute, I seek to bring visibility to Indigenous artists' work, influence the physical and intellectual dynamics within the Institute, and display the importance of the horse in these cultures."
Natalie, will be invigilating the exhibition, which is based at the Rothermere American Institute, 1a South Parks Road, Oxford, OX1 3UB, from the 2 – 6 May, 10am – 5pm.
The exhibition is free and open to the public, 9am – 5pm, and will be running at least until 30 June. Find out more