Sir David Brown named new Chairman of the Bletchley Park Trust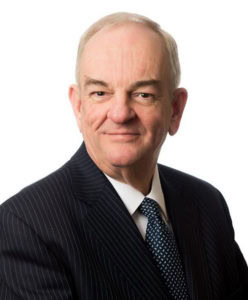 Bletchley Park has announced that Kellogg Visiting Fellow and Bynum Tudor Fellow, Sir David Brown, is to be the new Chairman of the Bletchley Park Trust. Sir David will succeed Sir John Scarlett on 12 February 2019.
A prominent figure in the telecommunications and electronics industry, Sir David was Chairman of Motorola, the British Standards Institution and several industry groups, he also chaired a number of high level government advisory bodies.
Sir David has a keen interest in promoting the links between engineering and education and, as well as being a Visiting Fellow here at Kellogg, he has Honorary Doctorates from the Universities of Bath, Kingston, Portsmouth and Surrey, and was awarded the Mountbatten Medal for his leadership contributions to electronics. He was Knighted in 2001 for services to British Industry.
Sir David Brown said: "It will be an honour to succeed Sir John Scarlett, who has given such distinguished leadership to Bletchley Park Trust over many years of rapid change and growth. I very much look forward to working with Iain Standen, his executive team and the Board as this world-class heritage attraction enters its next phase of redevelopment and continues to bring its unique heritage to an even bigger and diverse audience."
We wish Sir David every success in his new role!